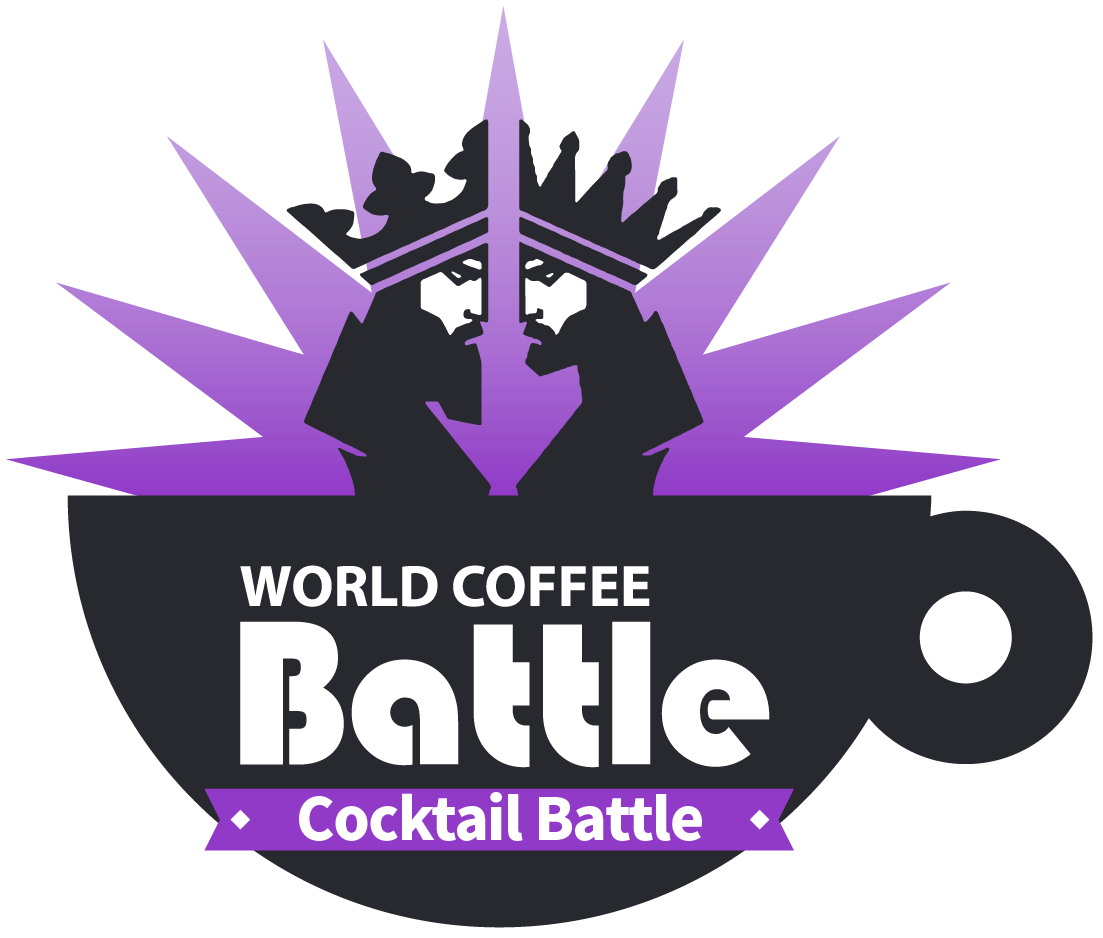 2020 WORLD COCKTAIL BATTLE
Competition Rules
1. Purpose
World Cocktail Battle is an Online and offline combination contest for creative barista and bartender excavation that suggests new trends in cafe beverages and challenges creative drinks.
By unearthing a new recipe of taste and visual different from the existing one, we will continue to develop related industries and grow into an influential global festival.
2. Competition schedule
Application/Period July 13 (Mon) - August 14 (Fri), 2020
The first round for the online pre-liminary match August 24 (Mon) - September 11 (Fri), 2020
Announcement of Second round Entries September 21 (Mon), 2020
Competitor OT September 25 (Fri), 2020
The round of Second round~ final round November 5 (Thu), 2020
* Offline Competition Venue: Special stage in '2020 Seoul Cafe Show' (Seoul, COEX)
* The above schedule can be changed during the period, and the changes will be posted on the official World coffee Battle website
3. How to apply
1) Take a video of your drink with any camera!
2) Please click on the link below to complete the application form!
3) send us the video! (Upload a video and write a link on the application form)
Or (Email [wcb@coffeetv.org] the video file, Our email address is on application form.)
Download the application form -
https://forms.gle/9e9CbWaNvEgKngiv9
* Important notes to follow when filming
- Film yourself making your own creative cocktail
- The maximum length of the video is 4 minutes (If longer, there will be point deductions)
- Make sure all of your performance can be filmed well
- There is no regulations for low resolution videos, but it could have some effects when judging
- There is no need to include coffee
- There is no need for a background music or any explanation about the drink (The video will be on silent mode when judging)
– Fire cannot be used
- Various performance when making the cocktail could lead to some added points
- There will be automatic elimination if the video is edited or fast forwarded at any part
4. The preliminary match rule
Event One Perfect Goblet
How to apply Refer to the direction clip uploaded on World Coffee Battle SNS (Youtube, Instagram, etc.)
Time limit Whole beverage manufacturing process / total Video Length 4 mins.
Deduction when exceeding
beverage All beverages for cafes and bars, Coffee use does not affect score
5. Examination Regulations
- 'World Cocktail Battle's preliminaries will be decided by a panel of professional judges
- Among preliminaries, we will select offline competitors finalists by totaling up judging screening score and online voting score
- The professional judging panel and online voting at a ratio = 7:3
- The professional judging panels will evaluate the below factors.
Technical proficiency / Clarity / Difficulty / Creativity / Balance of Design, and Cleanliness.
- Detailed regulations for the Second round will be announced later.
6. Awards
1st 5,000,000 KRW, trophy
2nd 2,000,000 KRW, trophy
3rd trophy
4th trophy
※ Subject to income tax by yourself
7. Other
The WCB Organizing Committee and Coffee TV have copyrights on all coverage, video footage, photos and interviews during the World Cocktail Battle. And 'Coffee TV' will use the materials exclusively.
8. Major Changes
Entitlement
Someone who loves and cares about latte art regardless of nationality or gender. But, Winners of previous tournaments are not allowed to enter the tournaments, and they can participate in the 'King of Kings' event later.
You cannot request a schedule adjustment for reasons such as participation in other competitions during the competition.
If you are absent without informing the offline contest in advance, you cannot participate in the next competition. (Unavoidable reasons for non-participation must be submitted no later than 40 days before the off-line contest.)
The contest was reorganized into 'World Cocktail Battle'. 'Coffee', which was a mandatory item until the previous competition, can be freely used by the contestants as needed.

새로운 칵테일에 도전하는 창의적 바리스타/바텐더 발굴 프로젝트
2019 WORLD Cocktail BATTLE 대회 규정
1. 대회 취지
카페 음료의 새로운 트렌드를 제안하고, 독창적인 음료에 도전하는 창의적인 바리스타 및 바텐더 발굴을 위해 펼쳐지는 온-오프라인 결합 경연대회. 기존의 레시피와는 다른 맛과 비쥬얼에서 참신한 레시피를 발굴함으로써, 관련산업의 지속적인 발전 및 문화교류에 이바지함은 물론 영향력 있는 글로벌 축제로 키워나가고자 한다.
2. 대회 일정
참가신청/접수 2020년 7월 20일(월) ~ 8월 14일(금)
온라인 예선전 2020년 8월 24일(월) ~ 9월 11일(금)
본선 진출자 발표 2020년 9월 21일(월)
선수 오리엔테이션 2020년 9월 25일(금)
본결선 2020년 11월 5일(목)
* 본 · 결선 경연 장소 '2020 서울카페쇼(Seoul Int'l Cafeshow)' 內 특설무대(서울,코엑스)
* 상기 일정은 기간 중 변경될 수 있으며, 변경 내용은 대회 공식 홈페이지에서 공지됩니다
3. 참가 신청 방법
1) 출품하고자하는 작품을 카메라로 촬영하세요.
2) 다음 링크(https://forms.gle/ddmMkmoAcGvdyhq68)를 통해 참가 신청서를 작성해주세요.
3) 촬영한 영상을 보내주세요.
(영상을 유튜브에 업로드 후, 참가 신청서에 URL을 기재하거나,
wcb@coffeetv.org로 영상을 첨부해 보내주세요)
* 영상 촬영 시 주의 사항
- 본인이 창작한 칵테일을 선보이는 영상 촬영
- 영상 길이는 최대 4분 (초과시 감점)
- 모든 동작들이 충분히 찍힐 수 있도록 촬영
- 저화질에 대한 감점은 없으나 심사에 영향을 줄 수 있음
- 커피를 반드시 사용할 필요는 없음
- 촬영간 칵테일에 대한 설명, 배경음악 삽입할 필요 없음 (심사시 음소거 상태에서 진행될 예정)
- 불을 사용해서는 안됨
- 칵테일과 관련한 다양한 퍼포먼스는 가점을 얻을 수 있음
- 영상 중간을 편집하거나 빨리감기를 할 경우 탈락
4. 심사 규정
- 월드 칵테일 배틀 예선 진출 심사는 전문 심사위원단에 의해 결정
- 온라인 예선 진출 후에는 예선 심사 점수와 온라인 투표 점수의 합산으로 본선진출자 결정
- 전문 심사위원단과 온라인의 투표를 7:3의 비율로 합산
- 전문 심사위원단은 기술적인 숙련도, 서비스 자세, 커피와 음료에 대한 실용성, 프리젠테이션과 맛의 일치성, 독창성 등을 평가한다.
- 예·본선 진출자의 수(00명)는 최종 참가 접수 인원 수에 따라 결정, 접수기간이 지난 후 고지된다.
5. 시상 내역
1위 상금 500만원, 트로피
2위 상금 200만원, 트로피
3위 트로피
4위 트로피
※ 상금에 대한 제세공과금 본인 부담
6. 기타
월드 칵테일 배틀 기간 중의 모든 취재 내용과 촬영 동영상, 사진, 인터뷰 내용 등의 저작물
사용에 동의하며, 이의 모든 저작권은 월드커피배틀 조직위원회 및 커피TV에게 있다.
7. 주요 변경사항
참가자격 국적, 성별에 상관없이 칵테일을 사랑하고 관심있는 사람.
단, 역대 대회 우승자(1등)는 일반 대회에 참가할 수 없으며, 추후 '왕중왕' 대회에 참가할 수 있다.
대회 기간 중 타 대회 참가 등 개인 사정을 이유로 일정 조정을 요청할 수 없으며, 경연일 기준으로 40일 이전에 사무국에 불참 의사를 밝히지 아니한 경우, 차기 대회에 참가할 수 없다.
*2018년 대회까지 필수사용 항목이었던 '커피'를 대회 참가자가 필요에 따라 자유롭게 사용할 수 있다.